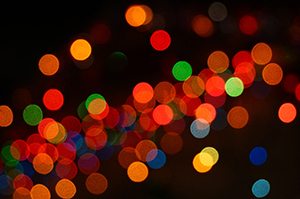 The CPSC (Consumer Product Safety Commission) estimates more than 15,000 holiday decorating injuries during November and December. The injuries include everything from stepping on ornaments, falling off a ladder and even electrocution.
From 2007-2011 the NFPA (National Fire Protection Association) reports that christmas trees caused and average of 6 deaths per year, 22 injuries and $18.3 million in property damage. They also report that holiday lighting is involved in an estimate 150 structure fires, with an average of 9 deaths, 16 injuries and $8.4 million in property damage.
Trees
Check your live tree for freshness. A fresh tree is green and pliable, the needles are hard to pull off and don't break when bent between your fingers.
Place your tree away from heat sources. A hot room will dry out a tree so make sure you monitor the water levels and keep the stand full of water.
If you buy a fake tree, check for the label "fire resistant". This does not mean that your tree will not burn but it will mean that the tree is resistant to fire and will be easier to put out if it does catch.
Keep your decorations up high and out of reach of children, and avoid decorations that look like candy or food.
Candles
Make sure you keep all candles in sight and extinguish them before you leave the room.
Keep the candles on sturdy and heat resistant surfaces.
Place all candles out of reach of children or pets and away from things that can catch fire.
Lights
Lights should be approved by Underwriters Laboratory. "UL" will be clearly displayed on the tag, this shows that the product has been inspected for potential safety hazards. Red UL marks mean the lights are safe for indoor/outdoor use, and green UL marks mean the lights are only safe for indoor use.
Check lights for frayed wires or cracks, and be sure there is a bulb in each socket. Discard and replace damaged strands.
Don't use staples or nails to put up lights. These may damage the wires and could result in shock or fire. Use clips or hooks instead to hang lights.
Only string the appropriate number of lights strings together. Check the packaging for manufacturers recommendations.
For outdoor decorations only use heavy-duty extension cords and only cords that are designed for outdoor use. And follow any guidelines for how many strings to link together.
Turn off all the lights before going to bed or install a timer to turn the lights off and on automatically.
Outdoor lights and inflatable decorations should be plugged into circuits protected by ground fault circuit interrupters (GFCI). GFCIs help prevent electric shock by breaking the circuit when differences in the currents of hot and neutral wires occur.
All indoor lights should be safely away from drapery, furniture and carpeting.
We at Eller Services we want to wish you a safe and happy holiday. If you are in the Metro Detroit area, Rochester Hills and the surrounding communities, call us at (248) 218-0939 or request service online for all of your heating, cooling and plumbing needs.