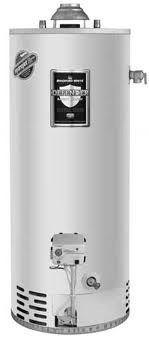 BRADFORD WHITE DEFENDER 50 GALLON, 65,000 BTU
I've read about the Rinnai, the A.O. Smith Vertex & NEXT Hybrid and they look a little high tech for me & my family. What are some more efficient conventional tank water heaters?
In a world of options, for some, less is more. For these people who do not always have high water demands but want a more efficient water heater, the Bradford White Defender series 50 gallon, 65,000 BTU water heater is ideal. The larger tank can accommodate simultaneous demands while the higher-than-average BTU rating allows for faster recovery.
What are the performance specifications for the Defender water heater?
The Defender 50 gallon, 65,000 BTU water heater produces 103 gallons per hour for the first hour of delivery with a 69 gallon per hour recovery. The Defender has an Energy Factor (EF) rating of .59 (typical 40 gallon, 40,000 BTU heaters have an EF rating of .55).
How do I decide what water heater is best for my needs?
Not every water heater is ideal for every family. It is best to consult with a licensed plumbing professional to consider all available options. Contact Eller Services at 248.652.6650 to schedule a free estimate for your water heater replacement or to schedule service for an existing water heater. We service Oakland, Macomb and Wayne counties serving cities of Rochester, Rochester Hills, Bloomfield Hills, Troy, Oakland Township, Sterling Heights, Shelby Township and surrounding areas.
Want to read about our other water heater options? Click here to read more! Have further questions or ready to schedule your FREE in home water heater consultation? Call 248-652-6650 or click here to fill out an inquiry form and someone on our staff will contact you.