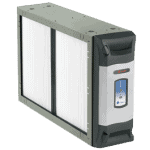 The air we breath is just as important to our health as the food we eat or the beverages we drink. Air quality is one of the most important and least thought about contributors to our health and ell being. Your indoor air can be 2 to 5 timers more polluted than outdoor air, according to the Environmental Protection Agency. At Eller Services we make your indoor air quality one of our top priorities. As you weatherproof your house to block out the cold air, you are also sealing pollutants inside.
An air cleaner helps reduce the pollutants like dust, pollen and smoke. An air cleaner helps with allergies, cold and flu, asthma, and many other bronchial irritants by killing bacteria, viruses, mold and mildew.
At Eller Services we recommend the CleanEffects Air Cleaner. This is the highest quality air cleaner on the market. It removes 99.98% of airborne particles in your home. With revolutionary, breakthrough technology, the Trane CleanEffects Air Cleaner catches particles at .1 micron, which is 8 times more effective than the best HEPA filter.
This cleaner doesn't need replacement filters, it can be vacuumed or rinsed once every 3 – 9 months. This cleaner contributes a negligible amount of ozone, far below the FDA limit for such appliances. It leads the industry in low pressure drops, providing more clean air by volume to your living space.
Your indoor air quality is one of the most important elements of your family's health. Keep it clean and simple, call us at 248-652-6650 today or request service online and find out if the CleanEffects air cleaner is right for your home.
We serve Rochester, Rochester Hills, Troy, Utica and all the surrounding communities. Check our service area page for more information or call our office if you are unsure if you are covered by us.